With the UAE being one of the most sought-after tourist destinations in the world, the Emirate of Abu Dhabi, Fujairah, Khorfakkan, Dubai, and the other UAE cities are perfect for a vacation. In fact, travelers can find all kinds of adventure here, like luxury hotels, theme parks, camel trekking, some of the most popular beaches in the region, etc, the UAE is an amazing destination for anyone visiting.
Best cities to visit in UAE | Khor Fakkan and Fujairah cities tour guide 
The good news is that these all beautiful cities are approx 2 hours far from Dubai main city area and travelers can visit all the best tourist places in short holidays. 
Tips: There are lots of Local Dubai-based tour operators who offer Fujairah city tour from Dubai and Khorfakkan tours, Abu Dhabi, Alain, and other cities tours on daily basis on budget rates on sharing and on a private basis too. Tourists can book these beautiful cities tours by calling or just emailing them with no advance payment for booking. I have added a few well-known and trusted tour operator links in the body to help travelers in making their search easy.
As we all know UAE has always been a place for travelers to enjoy great weather, a laid-back atmosphere, and stunning scenery. As a country, it has been known for its wealth, stability, and openness to new ideas, but as a destination for tourism and leisure, this country offers more than that and is the perfect mix of relaxation and adventure. With a population of only about 9.89 million people, visitors will have plenty of space in which to enjoy the country.
In this article, we will tell you about the best cities to visit and the top things to do in the UAE. Indeed Dubai and Abu Dhabi are the most beautiful and modern cities and there is no match, but the three other major cities that you can visit include Fujairah City, Khorfakkan, and Ras Al Khaimah. They offer you the top natural attractions like mountains and lakes, beautiful shopping malls, economic restaurants, awesome nightlife, and sightseeing spots. There are also lots of beaches and great hotels here, making the region an ideal spot for relaxation and fun. Read on to find out more about the best things to do in Fujairah and Khorfakkan cities and what you can do with the family in full-day city tour deals.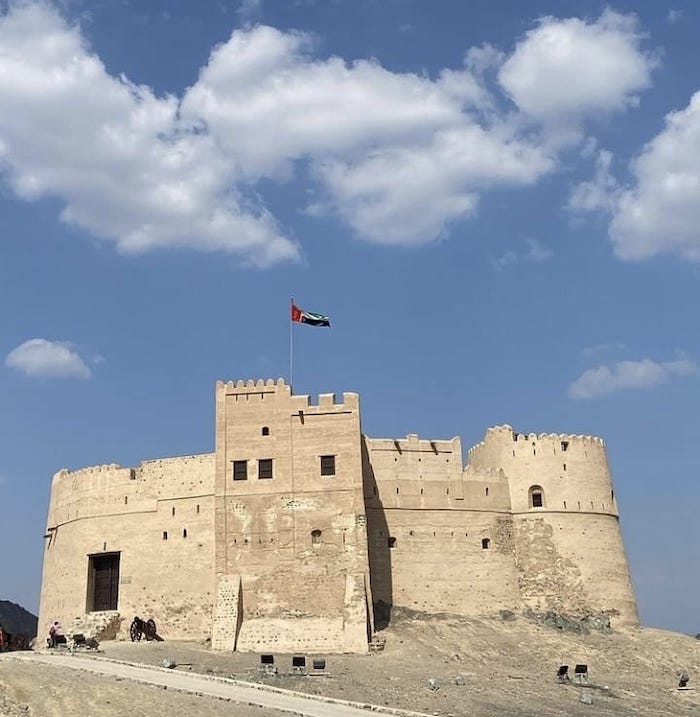 Khor Fakkan Tour and Things to Do Guide
Khorfakkan, a tiny Emirati city located on the East Coast of the UAE, has much to offer visitors. This is a great place to visit for history buffs, nature lovers, and anyone interested in seeing the sights of the Middle East.
There are plenty of tourist places to visit and so many best things to do in Khor Fakkan for visitors to experience culture, nature, and history in one day Khor Fakkan tour from Dubai.
Khor Fakkan is a coastal town in the United Arab Emirates, located on the east coast side. It is about 160 km (100 mi) far from Dubai's main city. Khor Fakkan is the part of Sharjah Emirate and is the second largest town after Al Ain, which is in Abu Dhabi.
Khorfakkan is known for its natural beauty, with several beaches, beautiful hotels and resorts, the famous Hajar mountain, and its old Portuguese fort (built in the 16th century).
The city is also a gateway to the Emirate of Fujairah. It is just 1 hour away from Fujairah, and it has a direct road connecting both cities
Khor Fakkan has many places to visit and as it is close to Fujairah it is a plus point to visit some nearest tourist attractions in Fujairah city too if you book a full-day Khor Fakkan city tour with including Fujairah nearest places in your itinerary. 
There are many things to do in Khor Fakkan and this place should be on your list of places to visit in UAE and things to do in UAE. 
One of the tourist attractions is Khor Fakkan Beach: Khor Fakkan beach is a famous beach & one of the most visited beaches in UAE. Khor Fakkan beach is the beach which is facing the Hajar Mountain. It has white sand and turquoise blue water that makes it a very beautiful place for tourists. You can walk through the white sand and go for a swim. It is one of the best tourist attractions and a perfect location for those who like the sea.
Visit the Al Rafisah Dam: The Al Rafisah Dam is a very beautiful dam with awesome surrounding areas where you can spend the day kayaking, there are boats you can hire and go in the middle of the water to have great fun. If you are planning to visit Khor Fakkan you should include Al Rafisah dam in your Khorfakkan tour itinerary must.
Wadi Shees: Before visiting Al Rafisah Dam you should visit the Wadi Shees on the way from Dubai, the Wadi Shees is a very old town where you can have a 30 min trail that goes inside the town, Wadi Shees have a running stream of potable water that makes it a must to have Wadi Shees tour on your bucket list.
The Rabi Tower Hiking: After Wadi Sheesh if you have some spare time then visit The Rabi Tower Hiking Trail which is an easy hike that takes about 1.5 hours to complete, but I suggest you bring a bottle of water, some snacks, and sunscreen as the trail is quite long. Once you reach the top you will have an amazing view over the whole Khor Fakkan.
If you are in Dubai UAE it is a must to add Khor Fakkan city tour to your list of things to do In UAE and places to visit in Dubai.
Khorfakkan Amphitheater: The beautiful amphitheater, located at the foot of Al Sayed mountain, overlooks the beaches of the city of Khorfakkan. Visitors have a chance to see the natural beauty of the city.
The amphitheater is a stunning and awe-inspiring structure, designed in an unusual way that takes you to another world. If you want to see an unforgettable performance in a unique environment then this is the place for you. The venue has a unique cooling system that ensures it can be used all year round.
A Full day Khor Fakkan tour is the perfect way to experience Khor Fakkan's beauty and culture with your family, you can enjoy a variety of activities like visiting the amazing Khor Fakkan beach, the historical Khorfakkan Fort & Al Hisn & Al Adwani Tower, the beautiful Al Waliyayh Mosque, the ancient Roman amphitheater, the ruins of Al Rabi Castle and more! Khor Fakkan is also home to one of the largest waterfalls in the world, so you'll have an unforgettable experience.
Have you ever visited Khor Fakkan? If not so it's highly recommended to visit this small beautiful city to enjoy an amazing day with family. 
Things to do and where to visit in Fujairah City Tour
One of the most beautiful cities in the United Arab Emirates (UAE), Fujairah is a fast-growing city and is home to many expatriates living there. The city is a popular destination for families who like to explore local culture, eat fresh food, and enjoy outdoor activities like camping, swimming on open beaches, kayaking e.t.c.
Fujairah city is located about a 1 hour and 40 minutes drive east of Dubai, Fujairah city is easily accessible by personal car or even by public transport general buses, and visitors are free to move around at their leisure, stopping to shop, eat, or visit tourist attractions. The city is surrounded by miles of beautiful beaches, making it a popular destination for swimming and surfing.
Other than sightseeing, shopping, and spending time outdoors, the most important thing that visitors can do in Fujairah is to get involved in the local culture and a visit to the famous Al Dhafra Archaeological Park, which has several ancient ruins is a must. Also be sure to see the Fujairah Heritage Museum, which showcases the history of this fascinating region.
To learn more about the city and the UAE in general, be sure to visit the Fujairah Museum, where visitors will find information on the history of the country as well as a beautiful collection of cultural artifacts from the region. Also, visit Bidya Mosque and Fujairah Fort to know more about the historical attractions and Arab history. 


Here at UrbanMatter, we pride ourselves on leading the charge when it comes to entertainment. Need ideas? News? Info? From venues, restaurants, and bars to events, festivals, and music — we've got you covered.
200 N LaSalle St Ste 1540 Chicago, IL 60601
E: [email protected]
P: 630.864.5270
Terms of Use
Privacy Policy
Built, Powered, & Developed By: Youtech