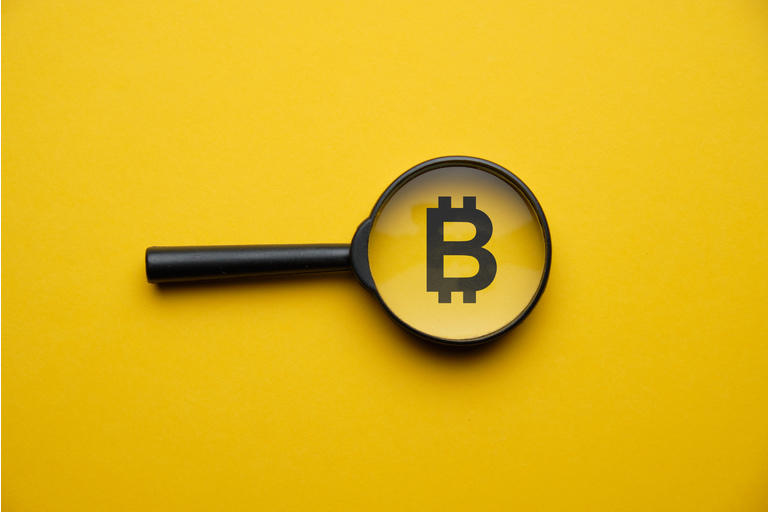 Produced by Ryan Wilday with Avi Gilburt and Jason Appel
Early last month, Jason Appel posted an article discussing the bullish action we saw in Bitcoin miners. Since that article, the two highlighted stocks, RIOT and MARA, were up 8% and 22%, respectively, before the recent pullback.
Jason also discussed how Bitcoin (BTC-USD) was 'stuck in the mud' at the time, in a sideways range for over a month. This action left us preferring a flush lower before the macro trend takes Bitcoin higher. But to counter that perspective, he offered his 'curveball potential' made more likely if Bitcoin rallies to $44-$49K. That is the path Bitcoin took, so has it signaled it is ready to push to new all-time highs?
So, does the recent action make Bitcoin clearly bullish short term and should we prepare for new all-time highs? Or, do questions remain about Bitcoin price action? More importantly, is the bottom of wave 4 in, or should we expect one more low?
Excuse me while I get a bit academic. I view it as necessary to explain the current uncertainty. Elliott Wave Analysts look for two structures to suggest a correction has been completed and an asset's price is ready to resume the march to new highs.
The first is a 'full' downward structure. This comes in the form of an A-B-C structure with the C wave filing in a five-wave structure. Or, in Bitcoin, it often comes in the form of a W-X-Y correction, a more complex form, where the C of Y has a five-wave structure.
The second structure we look for, after the correction's structure is completed, is an impulsive reversal that pushes through the resistance for wave 4 in the C wave. An impulse means we have five waves, according to Elliott Wave rules.
You can review some of these concepts via the links included in one of my earlier articles.
In its trip down from $64,900 to $28,816, Bitcoin is missing a clear fifth wave in C. This makes one strike against calling our wave 4 correction complete. We may have had a truncated bottom where the fifth wave did not breach the $28,816 low but held $29,280. Unfortunately, this is rare and unreliable.
Lastly, we do not have a clearly impulsive reversal, unless we view the move down as truncated. Instead, we have an A-B-C structure that came off the low at $28,816.
The bottom line is, the August reversal is suspect, and we may see another low below $28,816. But I'll discuss the action below and define what we are looking for if Bitcoin is going to solidify this reversal.
As Jason shared, Bitcoin was stuck in a sideways range and we expected a breakdown. Regardless, we know too well that markets are dynamic, so we told Crypto Waves subscribers that we were accumulating within the range while saving some cash for $24K and below.
Instead, Bitcoin took the high road and broke out over typical wave 4 resistance at $41,900. Jason was on top of this in late July after looking at Ether's action and expecting Bitcoin to be close behind. He made the following post in Crypto Waves:



Besides making our accumulation tactic very profitable, the range breakout changed our view of the structure. We are left with three points of view: one solidly bullish, one more aggressively bullish, and a remaining bearish view.
The orthodox bullish view is that we have three waves rising from $28,816. In that view, the only way we can achieve our $88K is for this fifth wave to be an ending diagonal. This is a very choppy structure, but one that should climb to new all-time highs. In this view, once this move higher completes, it should pullback in wave 2 on my chart to between $39,150 to $32,120. These are support levels determined at the time of writing. If wave 1 extends, these labels will rise slightly.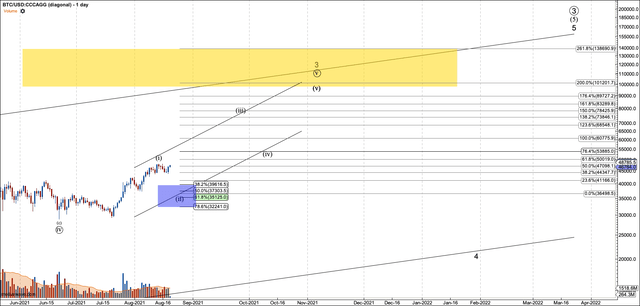 Image produced in MotiveWave
In the aggressive view, we must rely on a truncated bottom. That makes us a bit uncomfortable. However, as it stands, if Bitcoin remains over $37,240, we have a reasonable 1-2, i-ii setup. In this view, if Bitcoin holds over $37,240 and breaks out over $48K, we should begin a rather direct move to $88K. This setup tends to display more 'verticality' as it is a pure impulsive structure compared to the diagonal above, which tends to chop its way northward.
Note, for longer-term traders, these two bullish views are splitting hairs. But for short-term traders, the aggressive bullish view will be much easier to trade with less chop.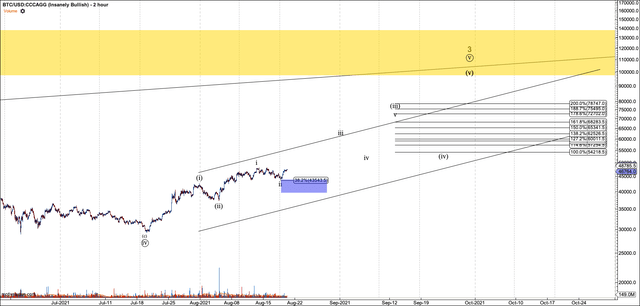 Image produced in MotiveWave
As stated above, the possibility of one more low below $28,816 exists but is losing favor day by day. However, the range breakout into the high $40K region rules out the black C wave discussed in Jason's article. Instead, we are in his red count. The nominal target I have, if that red count has topped, is $23,500 with the potential for $17K. Fortunately, we can say this structure should be viewed as unlikely once we break over $48K from here. And, if we break out over $48K, it will be easy to put profitable stops under our trades.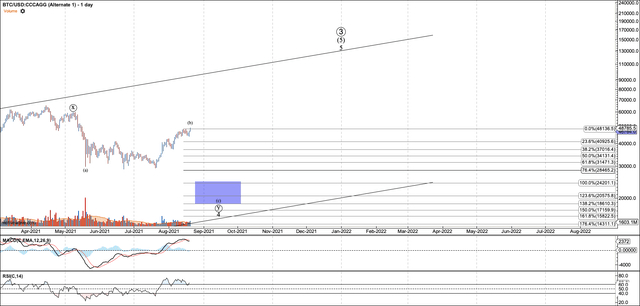 Image produced in MotiveWave
When we throw out options like this, we often get sarcastic comments like, 'So, the market is either going up or down'. While that is a reasonable reaction for those inexperienced in trading, all traders know that markets can thwart our best intentions.
Analysis is not the only way to get an edge on markets. Trading tactics are also key. As stated above, we shared with subscribers that we were accumulating in the high 20K to low 30K range. Though we thought another low is possible, we never try to get the very bottom or top. Similarly, now that the current rally is beginning to pull back, whether slightly or to new lows, it is a good time to plan more accumulation. That is especially true if you have not achieved your planned exposure.
By easing in and out of this market, keeping some position in Bitcoin, as well as some cash for surprises, we've traded this market well despite the uncertainty. Subscribers in Crypto Waves that have done similarly, at their comfort level, likely did very well too.
Today, we've profited from the recent rally and are well-positioned with cash to scale in further as this market pulls back. We can start by scaling into the high $30Ks provided the local top is in, leaving cash for $23K and below. If we see a solid impulsive reaction to any of the levels identified above, we will consider getting more aggressive. Aggressive trading would involve deploying most of our cash and adding tight stops in case a breakout fails.
In conclusion, Bitcoin has come alive since Jason's article in July. It pushed against our view that we should see one more low. Instead, it broke out of a month-long range, almost reaching $50K. While this rally doesn't guarantee that the correction that started at $64,900 is over, we favor that it has.
Join Crypto Waves!
Profit from our coverage of 20+ cryptocurrencies and crypto stocks … based on our unique strategy for surfing volatility!
"Ryan's tactics have made the difference for me … when to enter and when to update stops – invaluable."
"Been in your service for most part of 2 years…Really value your work :)"
"Gotta love this service, none better."
Click here for FREE TRIAL!
This article was written by
Ryan Wilday has over two decades of experience trading equities, futures and options. He was introduced to cryptocurrency in 2013 by a programmer friend and began mining and trading shortly thereafter. Though he read Prechter's Elliott Wave Principle in the early 2000's, he didn't make practical use of the theory until joining EWT in 2015. He has used the theory to call many of the most important turns in Bitcoin and other cryptos since 2017. Of late, Ryan has developed many quantitative systems for trading crypto which he has deployed in this service to the benefit of subscribers. Ryan is a popular speaker at financial forums and conferences in the U.S., including The Traders Expo and The Money Show, and widely syndicated on sites including Seeking Alpha, MarketWatch, and Nasdaq.com. He is the author of two eBooks: "The Risks & Rewards of Cryptocurrencies" and "10 Rules To Be A Successful Crypto Trader."
Disclosure: I/we have a beneficial long position in the shares of BTC-USD, MARA, RIOT either through stock ownership, options, or other derivatives. I wrote this article myself, and it expresses my own opinions. I am not receiving compensation for it. I have no business relationship with any company whose stock is mentioned in this article.