Scan to Download iOS&Android APP
By Mensholong Lepcha
Edited by Jekaterina Drozdovica
14:15, 21 October 2022
Foreign investors have been increasing their exposure to Vietnam, one of the fastest-growing economies in Asia. Today, Vietnam is a key manufacturing hub. Heightened Sino-US tensions and a strict zero-Covid policy in China have forced multinational corporations to open factories in Vietnam to diversify their risk.
In terms of stock investing, the Vietnam stock market was among the top performers globally in 2021. However, risk-off sentiment seen across the world has pushed Vietnamese equities to fall over 30% year-to-date (YTD), as of 21 October, with valuation metrics slumping to decade-lows.
How can foreign investors gain exposure to the Asian country and what are the key risks involved? Here we take a look at how to invest in the Vietnam stock market.
Vietnam is one of the fastest growing economies in Asia. The country has become an attractive destination for foreign investors due to its stable political environment, low labour costs and high growth prospects.
In recent years, Vietnam has prospered from growing US-China tensions as companies such as Apple (AAPL), Nike (NKE) and Samsung (SMSN) have diversified their manufacturing facilities away from China and into Vietnam.
Vietnam's single-party system has given investors the confidence of political stability and certainty. The Vietnamese government has actively promoted the entry of foreign investment by offering incentives, reforming regulations and participating in several free trade agreements.
While Vietnam has made positive steps in opening up its economy to the world, investing in Vietnam stocks for foreigners is still restrictive. Vietnam has foreign ownership limits in place for its domestic companies. These limitations vary from one industry to another.
Bullish Bearish
100% 0%
You voted bullish.
You voted bearish.
Give VOF a try
To gain exposure to Vietnam's stock market, investors may look into the FTSE Vietnam Index Series, which are composed of two indices: FTSE Vietnam All-Share Index and FTSE Vietnam index.
According to index provider FTSE Russell, the index series were designed to provide international investors with an accurate presentation of performance of the Vietnamese stocks.
The FTSE All-share Index covers the top 90% of companies listed on the Ho Chi Minh Stock Exchange (HOSE) that meet eligibility requirements of the index series. Meanwhile, FTSE Vietnam index covers a subset of the FTSE Vietnam All-Share index consisting of companies that have sufficient foreign ownership availability. FTSE Russell noted:
Companies with foreign ownership availability of less than 2% are not included in the FTSE Vietnam Index. The constituents of the FTSE Vietnam Index Series are reviewed on a quarterly basis.
In 2021, Vietnamese equity market was one of the top performers globally on the back of increased foreign inflows, explosion in domestic retail investing and the nation's early control of the Covid-19 pandemic.
The nation's equity benchmark Vietnam index rose over 130%, from a March 2020 low of 649 points to an all-time high of 1536 points by January 2022.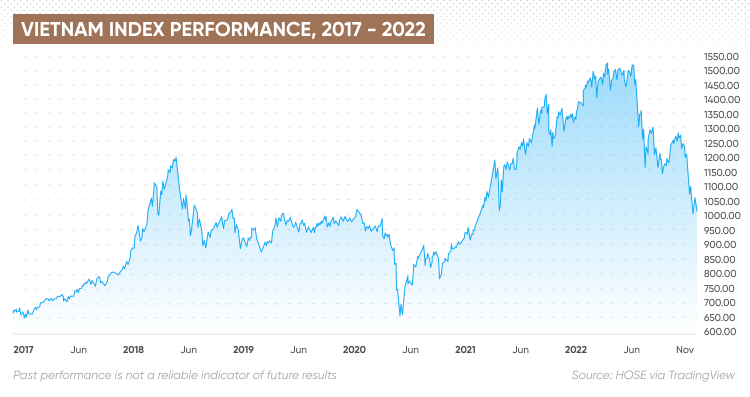 In 2022, the risk-off investment sentiment has hit Vietnam equity markets as well. The Vietnam index has fallen over 30% from its peak levels to trade around 1020 points by 21 October 2022.
In year-to-date (YTD) terms, Vietnam's index has fallen over 33%, as of 21 October. Compared to its Asian peers, India's Nifty 50 (INDIA50) rose slightly by 2%, Thailand's SET50 has slipped 4%, Malaysia's KLCI index has slipped 6.57% and Indonesia's IDX Composite index has gained over 5% in the same period, data as of 21 October showed.
Investors can buy stocks and index funds to gain exposure to equities listed on Vietnam's stock exchanges. These instruments are typically used as part of buy-and-hold strategy aimed at long-term gains, although in some cases it can be used for short-term trading, too.
Foreign investors need to open accounts with brokerages in Vietnam to trade stocks listed on the HOSE directly. Foreigners are also required to open a bank account in Vietnam and acquire a securities trading code in order to start trading Vietnamese stocks.
Foreign investors may also look into the stocks of investment companies that have significant exposure in Vietnam's companies. For example, VinaCapital Vietnam Opportunity Fund (VOF) and Vietnam Enterprise Investments (VEIL). It's key to conduct your own thorough research about the companies' fundamentals and management structure before making any financial decisions.
Index funds are one of the most popular and convenient ways for foreign retail investors to get exposure to equity markets in Vietnam.
AMZN
GME
TSLA
AAPL
There are several passive index-linked exchange-traded funds (ETFs) and mutual funds that track the performance of equity indices such as the FTSE Vietnam All-Share index and the FTSE Vietnam index. Here, investors do not have to worry about foreign ownership availability as the stock constituents of these indices are adjusted based on their eligibility on a quarterly basis.
Trading contracts for difference (CFDs) may offer a flexible alternative to traditional ways of buying and selling stocks. Traders can speculate on the price movement of Vietnamese securities without owning the underlying assets.
A CFD is a contract between a broker and a trader to exchange the difference in value of an underlying asset between the beginning and the end of the contract.
It is important to note that CFDs are a leveraged financial product, which allows traders to use margin to put down only a fraction of the total capital required to open a position. The rest of the capital is lent to traders by their broker. The use of leverage in CFDs can result in magnified profits and losses, making it a high-risk endeavour.
For example, Capital.com offers CFDs on VinaCapital Vietnam Opportunity Fund (VOF), medium to long-term investment trust with exposure to Vietnam-linked companies, with a 20% margin, or 1:5 leverage ratio. This means that with a $200 deposit, traders could open a position worth $1,000.
Trade VinaCapital Vietnam Opportunity Fund (VOF)
A margin deposit is the initial amount required to open a CFD position. A trader will also need a minimum amount of capital in their account, known as maintenance margin, to keep leveraged positions open. In the event that the market goes against a trader's position, they may be asked to deposit additional capital into their account in order to keep positions open. This is known as a margin call.
CFDs are also considered convenient instruments for short selling. Traders can open a short position in available assets by selling a CFD and later closing the position according to their price targets and risk tolerance.
Due to overnight fees, CFD trading is considered short-term in nature. Other charges would depend on the broker and may include guaranteed stop-loss fee.
Note that CFD trading is highly speculative and involves the significant risk of loss and risk of margin calls. Traders have to consider their objectives and risk appetite before deciding to trade CFDs.
The strict stock market regulations in place in Vietnam is a key risk to investing in Vietnamese equities.
Foreign investors cannot access companies when their foreign ownership limits have been maxed out. This restricts the inflow of foreign capital into equity markets and may cap price appreciation of Vietnamese stocks.
Restrictive foreign ownership limitations have also prevented Vietnam from being upgraded to an emerging market classification from its current frontier market tag.
Inclusion into emerging market indices will automatically bring in additional capital into Vietnamese markets as passive investing index funds adjust their holdings to track the performance of their respective emerging market indices.
Other risks include macroeconomic risks such as hyperinflation, deflation, stagflation, foreign exchange rate fluctuations, supply chain problems, geopolitical conflicts and recessions.
Company-specific risks, such as poor earnings, management controversies, merger and acquisition (M&A), activist investors, delistings, insider trading and bankruptcies, can affect stock market valuations
Note that while this article provides important information on how to invest in the Vietnam stock market, it shouldn't be used as a substitute for your own research.
You should first determine your risk tolerance, investing or trading strategy, and how much money you are willing to risk. Traders have many choices at hand, from stocks and ETFs aimed at a longer timeframe to derivatives such as CFDs that are more appropriate for short-term trading. It's important to define your own strategy when researching how to buy shares listed in Vietnam.
Investors and traders are also encouraged to perform adequate due diligence on any security they wish to invest or trade in. Remember, past performance does not guarantee future returns. And never trade money you cannot afford to lose.
Index funds are considered one of the most popular and convenient ways for foreign retail investors to get exposure to equity markets in Vietnam due to restrictive stock market regulations in the country. The best way to invest in Vietnam stocks would also depend on your overall strategy and risk appetite.
All investment involves risk. Investors should be aware of macroeconomic and company-specific risks associated with Vietnamese equities. Always conduct your own research before investing and never invest more money than what you can afford to lose.
Foreign investors can invest in the Vietnam stock market by opening a brokerage and bank account in Vietnam or via index funds listed on their respective local brokerages. It should be noted that Vietnam has foreign investor limitations which vary from one sector to another. Always conduct your own research.
Rate this article
Rate this article:
Share this article
Comment
Rate this article
Rate this article:
Share this article
There are currently no responses for this story.
Be the first to respond.
Most traded
Most traded
Most traded
Most traded
Most traded
Most traded
Join the 455.000+ traders worldwide that chose to trade with Capital.com
Also you can contact us: call +44 20 8089 7893 • [email protected]
CFDs are complex instruments and come with a high risk of losing money rapidly due to leverage. 87.41% of retail investor accounts lose money when trading CFDs with this provider. You should consider whether you understand how CFDs work and whether you can afford to take the high risk of losing your money. Risk Disclosure Statement
The value of shares and ETFs bought through a share dealing account can fall as well as rise, which could mean getting back less than you originally put in. Past performance is no guarantee of future results.
Risk warning: сonducting operations with non-deliverable over-the-counter instruments are a risky activity and can bring not only profit but also losses. The size of the potential loss is limited to the funds held by us for and on your behalf, in relation to your trading account. Past profits do not guarantee future profits. Use the training services of our company to understand the risks before you start operations.
Capital Com SV Investments Limited is regulated by Cyprus Securities and Exchange Commission (CySEC) under license number 319/17. Capital Com SV Investments Limited, company Registration Number: 354252, registered address: 28 Octovriou 237, Lophitis Business Center II, 6th floor, 3035, Limassol, Cyprus.