A dedicated team of experts bring you live score, live cricket score, live match update on Sports.NDTV.com. After 49.5 overs, South Africa are 287. The live updates of South Africa vs India scorecard is also available. It is the perfect platform to follow your favourite teams in South Africa vs India 2021/22. Keep a track on your favourite batsmen and bowlers through South Africa vs India 2021/22 today match, ball by ball commentary, South Africa vs India, South Africa vs India live score, South Africa vs India scorecard. Follow the excitement of the South Africa vs India 2021/22 on Sports.NDTV.com as you can follow live match updates and live cricket score through our platform.
We are back for the chase! KL Rahul and Shikhar Dhawan are sitting near the ropes. The fielders are warming up on the field.

… The Run Chase …
Right then! 288 is what India need to end the series with a win. The pitch is quite good to bat on and they would back themselves to chase it. But they need a couple of big stands and that has been a concern for them in the series. Will India chase it down or will South Africa's attack make lives difficult for the batters yet again? Stay with us to find out.
India had a good comeback with the ball. They took early wickets with Deepak Chahar striking at the start and there was also a run out. The spinners then troubled the South African batters a bit but didn't break the big stand in the middle overs. It was looking like they would have to chase a big total but they got back in the game by picking up regular wickets. Bumrah came back and got rid of de Kock and Chahal got the wicket of van der Dussen soon. They kept the intensity up after that and never let the South African middle order cut loose like they would have wanted to. Bumrah was the pick of the bowlers for his two wickets and Krishna too bowled well in the death overs while the rest of the bowlers had a decent game too.
For South Africa it was all about one partnership. They lost their top order quite early and were in some trouble at 70 for 3. Rassie van der Dussen and Quinton de Kock then stitched a lovely stand to get their side back on top. The pair added 144 runs for the fourth wicket with de Kock getting a brilliant ton and van der Dussen going past the half-century mark as well. They were well set and South Africa were 170 for 3 at the 30-over mark. They would have wanted to get a big score post that but losing both their set batters in consecutive overs cost them a lot. They lost a bunch of wickets after that and their charge was halted. David Miller did stitch a good stand with Dwaine Pretorius though to get them close to the 300-run mark but South Africa would be disappointed with their finish.
At the 30-over mark, South Africa would have been expecting a score beyond 320 probably. But India have done well after that to restrict them to a much lower score than that. Still, this remains a good score but nowhere close to what the hosts should have gotten.
49.5 overs (0 Run) OUT! TAKEN! That's that and South Africa have been bowled out for 287! Prasidh Krishna goes for the slower one yet again and pitches this one right up, on off stump. Sisanda Magala makes room and looks to smash it over extra cover. Mangala gets no timing whatsoever on it and hits it straight towards KL Rahul at extra cover. The skipper takes a comfortable catch and that will be the end of the South African innings. Prasidh Krishna ends with 3 wickets.
49.4 overs (0 Run) A yorker, around off and Nigidi can do nothing about it.
Lungi Ngidi is the last batter.
49.3 overs (0 Run) OUT! TAKEN! This is smart bowling from Prasidh Krishna and he picks up his second wicket. This is pushed well wide and is slower in pace. At this stage, Miller just has to go for the big shot and he looks to lift this one over the cover region. The ball comes off of the toe end of the bat and flies towards wide long off. Virat Kohli settles under it and takes a calm catch, right on the ropes. India have pulled things back well in the final overs.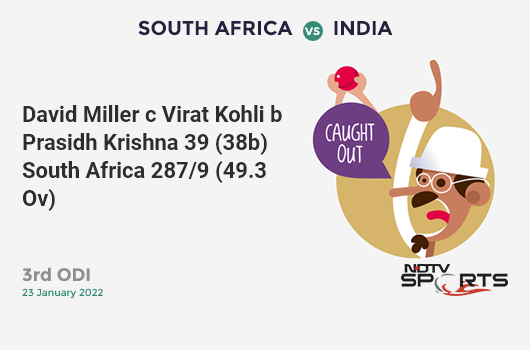 49.2 overs (0 Run) Shorter in length, at the body. Miller looks to pull but takes his eyes off the ball. The ball goes off his arm and towards point.
49.1 overs (4 Runs) FOUR! Full and very wide, slower too. David Miller throws his hands at it and manages to slice it over backward point for a boundary.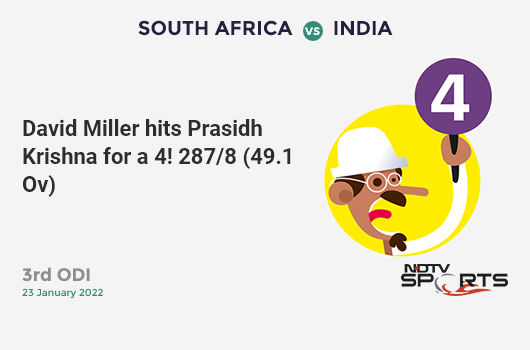 48.6 overs (1 Run) Full and straight, flicked through mid-wicket for one. Miller will have the strike for the last over.
Sisanda Magala is the new man in.
48.5 overs (0 Run) OUT! TAKEN! Jasprit Bumrah is just too good at the death and we can see why. Bumrah goes full and wide but takes the pace off the ball. The ball is taken away from Keshav Maharaj's hitting arc and he is forced to fetch it. And fetch it he does. Maharaj drags this one and lifts it straight back over the bowler's head. Virat Kohli moves to his left from long on and takes an assured catch.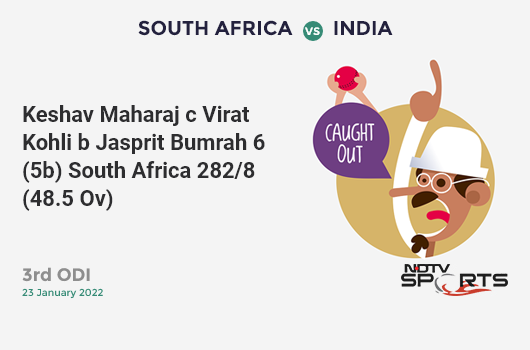 48.4 overs (1 Run) Brilliant bowling! Miller tries to unsettle Bumrah as he moves inside the crease. Bumrah though fires in a yorker at the toes, at 141 kph. Miller just about jams it out on the leg side and picks up a single.
48.3 overs (1 Run) Slower one, pushed wider. Maharaj drags it from outside off and heaves it towards wide long on for a single.
48.2 overs (0 Run) Swing and a miss! Full and wide, it was in the slot a bit. Maharaj moves leg side and throws his hands at it but isn't able to make a connection.
48.1 overs (1 Run) Bumrah bowls ths cutter, on middle. Miller adjusts well to the extra bounce and guides it towards short third man. They take one.
47.6 overs (1 Run) Miller wants two but Maharaj says no. Slower one, angled at the pads. Miller bunts it into the vacant square leg region for a single. He will keep strike for the next over.
47.5 overs (1 Run) Full and wide, Maharaj steps out and creams it through cover but will get just one for it.
47.4 overs (4 Runs) FOUR! Not sure what Keshav Maharaj was looking to go that fine but it has brought him a boundary. Good-length ball, outside off and there's pace behind this one. Maharaj just waits for it and the last moment opens the face off the bat. The ball races away into the third man fence.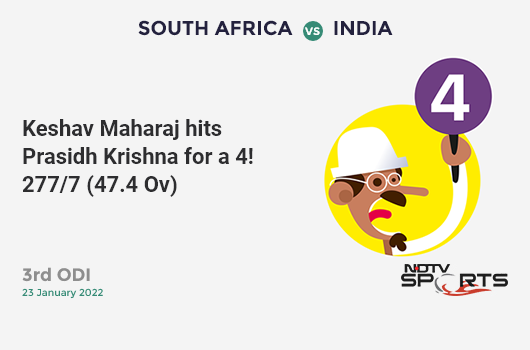 47.3 overs (1 Run) Krishna sees Miller advancing and bowls it short, at the body. Miller manages to pull it towards deep square leg and collects a run.
Keshav Maharaj is the next batter.
47.2 overs (0 Run) OUT! CAUGHT! The change of pace has worked for Prasidh Krishna. Slower one, fuller in length and on the stumps. Dwaine Pretorius doesn't pick it up and looks to heave it on the leg side. He is way too early in his shot and ends up just lifting it towards deep mid-wicket. Suryakumar Yadav takes an easy catch over there but Pretorius will feel he has done his job.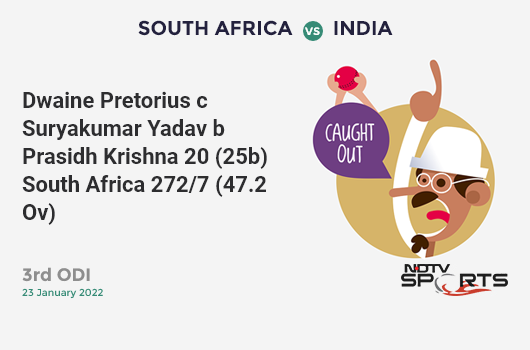 47.1 overs (1 Run) Krishna hurls across a full toss, on the body. Miller gets cramped for room and only manages to work it away towards deep square leg. They get a single.
46.6 overs (1 Run) Length again, on off. Miller edges it down towards the third man region for a single. With just 3 overs remaining, can Miller power his side to a score beyond 300?
46.5 overs (1 Run) Back of a length, outside off. Pretorius taps it towards cover for one.
46.4 overs (0 Run) Pretorius had no idea about that one though. Another slower one, into the pitch and outside off. Pretorius hops and looks to pull but the ball goes well beneath his bat.
46.3 overs (4 Runs) FOUR! Crunched! Slower one, on a length and bowled wider. Dwaine Pretorius stands back and just slaps it through extra cover for a boundary.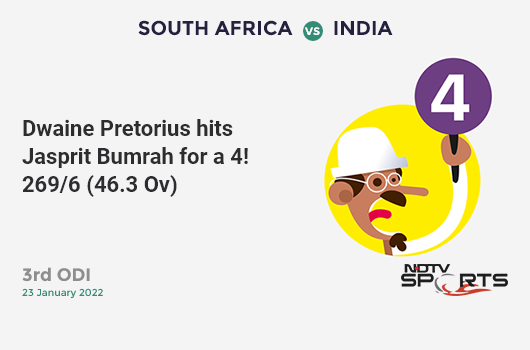 46.2 overs (0 Run) That could have been catastrophic! Full and straight, Pretorius bunts it out towards short mid on. Miller is backing up well outside the crease but manages to get back.
46.1 overs (1 Run) Banged in short, around off. Miller plays a controlled pull shot towards deep mid-wicket for a single.
45.6 overs (0 Run) Another good short ball, over leg stump. Pretorius looks to pull but misses.
45.5 overs (1 Run) A dipping full toss, outside off. Miller is unable to take advantage as he slaps it towards sweeper cover for a run.
45.4 overs (4 Runs) FOUR! This is angled onto the pads and David Miller whips it powerfully into the backward square leg fence.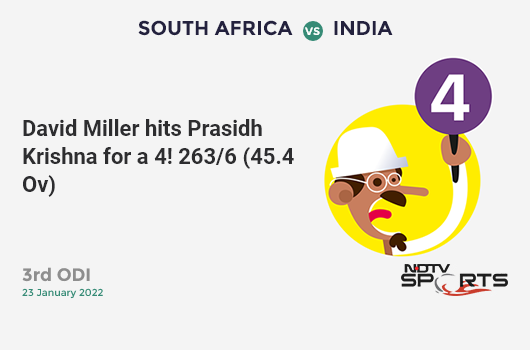 45.3 overs (1 Run) Around the top of middle, Pretorius works it through mid-wicket for a single.
45.2 overs (0 Run) A well-directed short ball, over middle. Pretorius is well beaten.
45.1 overs (1 Run) A length ball, on the pads. Miller flicks it away to deep backward square leg for one.
Advertisement
Advertisement
Advertisement