It's hard to justify advertising during a recession — especially as consumers struggle financially, brands rework their budgets, and future stability remains uncertain.
Still, studies show that advertising during a recession pays off. That means brands shouldn't necessarily pull back on their campaigns right now. But they should take the opportunity to rework their strategies.
Easier said than done, of course. Marketing during a recession requires striking a careful balance between promoting your brand and building awareness while also remaining sensitive to a shifting market and changing customer needs.
It may be tough, but it's not impossible. To provide inspiration and guidance, we'll unpack some of the top recession marketing examples from brands across industries.
Let's take a look.
Online lending marketplace LendingTree launched the LendaHand Alliance Cohort in 2021 to support emerging nonprofits in its city of Charlotte, NC. This year, the company is continuing to make good on its grants.
The three-year program supports 10 community-embedded nonprofits with a $3.75 million investment, business expertise, and social capital to help them continue making a difference.

As April Whitlock, Head of Corporate Citizenship at LendingTree said, "We are ready to disrupt the corporate giving model the exact same way we disrupted the mortgage experience: by empowering the little guy."
Check out another successful campaign from LendingTree.
U.S. customers are flocking to wholesale and buying in bulk to prepare for further price inflation and economic recession. Boxed, an online wholesale retailer, is stepping in to help with its new campaign, "The Value of Boxed."
The brand's ads highlight the value of buying in bulk, especially when it comes to purchasing necessities like groceries and household essentials. They even take jabs at spendthrift companies with zingers like, "So, this is what happens when you focus on your customers instead of flying into space."

Boxed also launched paid ads with special discount codes, helping customers save even more with their purchases.


See how Boxed increased sales with another successful case study.
Bosch Global, an engineering and technology company, is putting the spotlight on sustainable cities that use cutting-edge equipment to lower energy usage, reduce costs, and combat climate change.
Most recently, the brand did a deep dive into how Ontario, California worked with Bosch subsidiary Climatec to install 13,000 new LED streetlights and launch new programs for sustainable urban development.


By revamping its energy infrastructure with new equipment, Ontario is expected to save more than $75 million going forward.
Check out another case study from Bosch Home Appliances.
The Motley Fool is a multimedia financial services company that publishes investing insights, research, and advice. Naturally, the business has been guiding audiences through this period of economic instability with high-quality content.
A video about the best safety stock in a rough market, for example, helps investors continue expanding their portfolios:

Meanwhile this Instagram video breaks down three recession-proof real estate investments during a period of economic distress: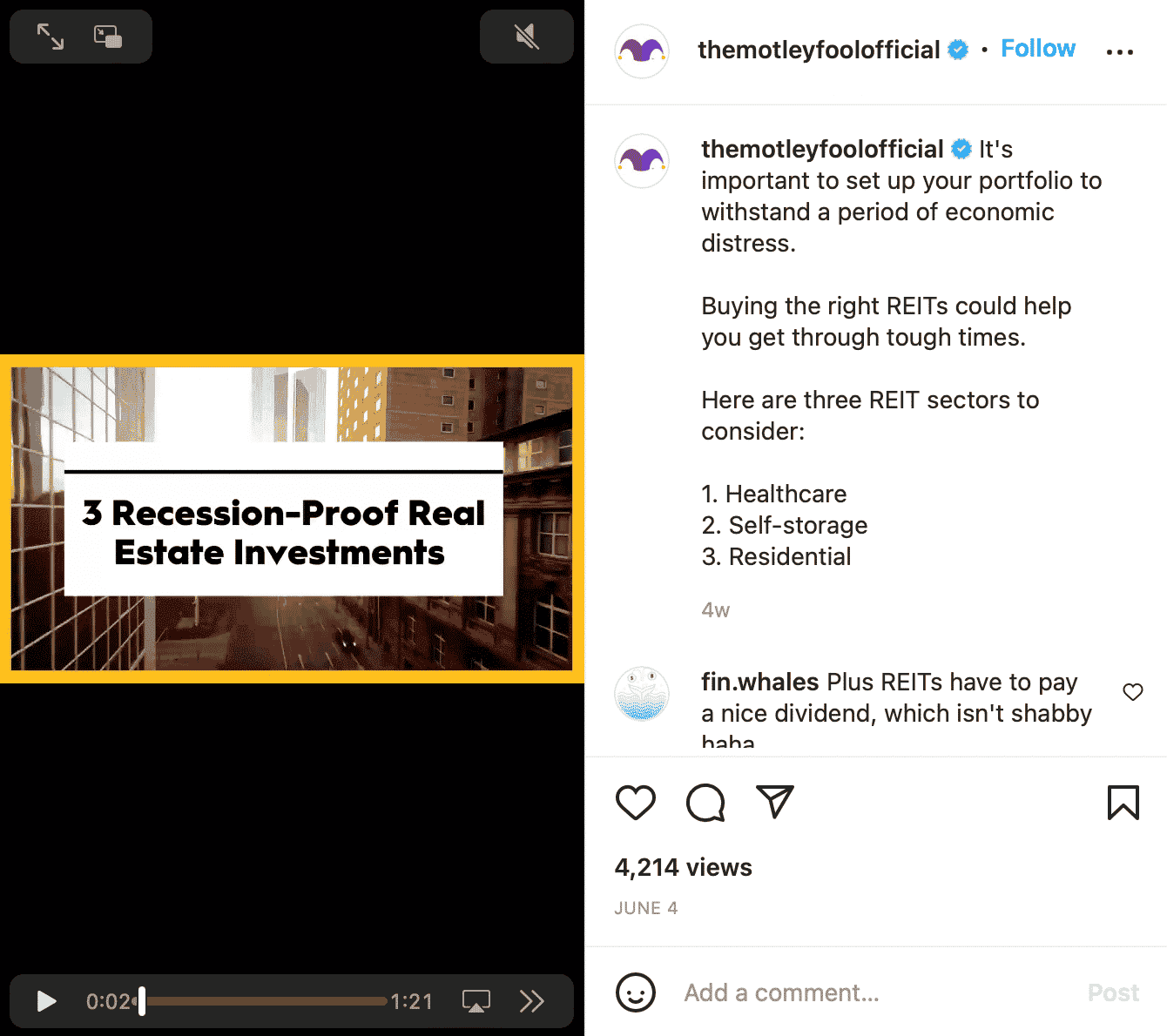 See another successful case study from The Motley Fool.
Adidas launched its #RunForTheOceans campaign to clean up plastic waste from beaches and islands around the world. That is, during a time of economic downturn, the retailer tied its products to bigger issues and social missions like sustainability.
The campaign called on people across 189 countries to lace up and join the movement: 10 minutes of running = 1 plastic bottle cleaned up by nonprofit Parley for the Oceans.

The event resulted in over 6 million participants, more than 771 million minutes ran, and 500,000 pounds of plastic waste cleaned up.
Check out how Adidas increased brand awareness with another successful video campaign.
Now may feel like the time to take a step back from advertising. But brands that can successfully navigate recession marketing and pivot their strategies are more likely to come out on top. Use these examples and key takeaways to guide you, and check out Taboola's recession marketing best practices for helpful tips on building engaging ad creative through economic uncertainty.
Join our network of 250,000+ marketers and agencies, and get the latest articles in your inbox every week.